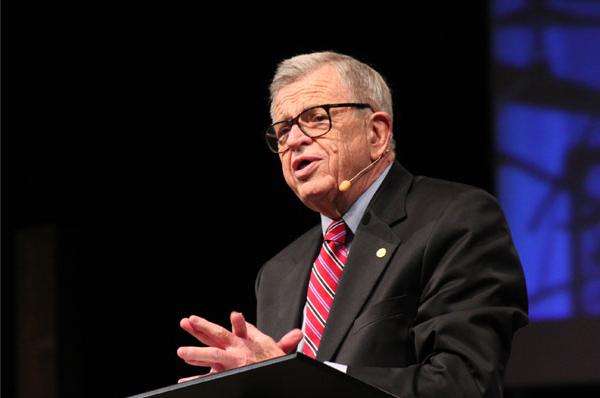 A great oak has fallen.
The death of Chuck Colson (1931-2012) is so remarkable because of the life of Chuck Colson. His life is summed up in the scripture that the Manhattan Declaration posted:
"Therefore, if anyone is in Christ, he is a new creation; the old has gone, the new has come" (2 Corinthians 5:17 NIV)!
Chuck Colson was truly a new man. His life forever will be remembered, not in a legacy of political intrigue, but with a legacy of new life in Jesus Christ that overflowed to the world with a robust intellect and dynamic message lived out in a heart of deep, demonstrable compassion. Yet the new life that transforms old legacies of shame into legacies of faithfulness is available to all who call, like Chuck, on the name of Jesus Christ in repentance and faith.
Chuck's life reflected the newness of God's Truth in Christ. The man thought like Christ. He was immensely theological—caring deeply about the Truth of God revealed in His Word in the Flesh, Jesus, and in His Word, the Bible. He brought that Truth to bear in every area of life and encouraged others to do the same. At a time when some proclaim that there is no truth, and others shrink from proclaiming that Truth in a postmodern, pluralistic age, Chuck Colson became one of the Church's greatest apologists for the Truth of God in Jesus Christ. He proclaimed Truth with boldness, intellectual strength, compassion and humility and was active in his presentation of Jesus Christ through the last days of his work on his earth. He is now worshipping face to face before the One he preached so well.
All of us at Reformed Theological Seminary, and Mae and I as a family, pray for Patty and the Colson family and for the continuing strength of Prison Fellowship and all the ministries that Chuck helped to found or lead. He gave vitality, enthusiasm, coureage to the Church in a profound way and he left his mark on our seminary campuses where he taught and preached on numerous happy occasions.
A great oak has indeed fallen, but because Chuck Colson ministered through others, there are acorns—disciples of his Lord and ours—all over the world now rising with the new life that Chuck experienced in his Lord and Savior Jesus Christ. For that reason we in the Christian Church must remain most hopeful. A new heaven and a new earth is on its way. The forest of giant new oaks is growing and not even death can stop it.
"Thank you Lord for your servant, Chuck Colson. Help us to go on and take up the full armor of God and be soldiers of Christ who arise, as he did so well. Comfort his family. Bless his ministry colleagues. Encourage Thy Church. Raise up more men and women like your servant, Chuck. In Jesus' name. Amen."
Related articles