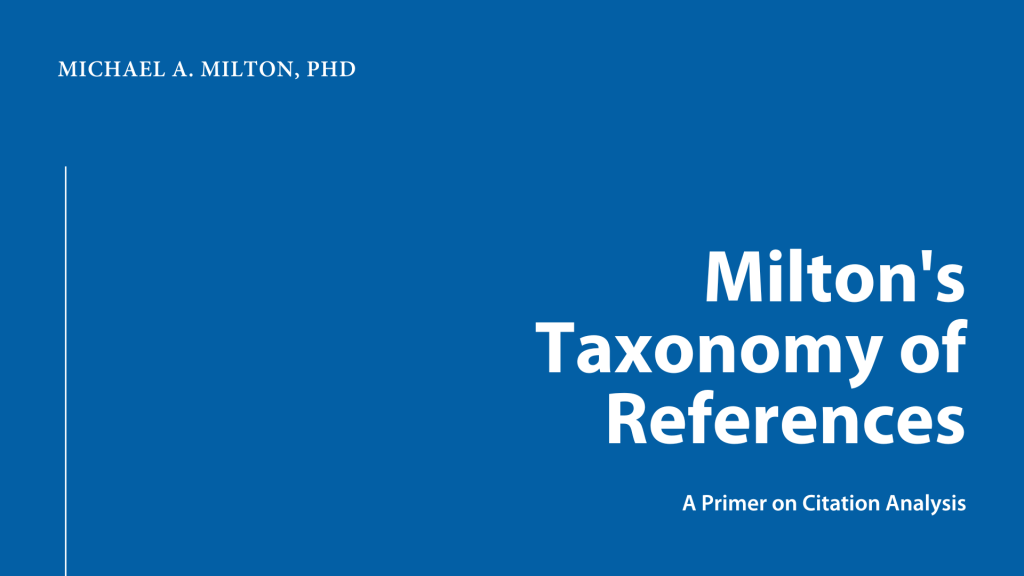 We began work on the classification of references in theology and religious studies to help graduate and postgraduate students in classifying and measuring references. There seemed to be a need for the simple division of kinds and types of references. Indeed, we have seen the phrase "Milton's Taxonomy of References" as "a framework for classifying the different types of references used in academic writing,", particularly in theological and religious studies. The taxonomy was developed using the simple formula for citation analysis. The standard is a demonstration of the received value of respective content. [See https://michaelmilton.org/2019/06/21/a-taxonomy-of-references-in-writing-graduate-level-theological-papers/.]
Kinds (divisions) and Types (subdivisions)
The taxonomy categorizes references into five kinds and six distinct types based on their level of relevance and the purpose for which they are used.
I. The five kinds of references are:
Peer-reviewed. The peer-reviewed journal article, monograph, or book is invested with the highest possible editorial value. The respective content has undergone significant testing by the scientific method or through approbation by subject-matter experts in the field. The content is deemed to be of a superior kind because of the tested process that produces material more likely than not to reflect some mastery in a respective area of knowledge.
Subject-Matter Experts. Being a subject-matter expert is not an honor assumed by one's self. The SME is a distinguished scholar or practitioner in a respective field by acclamation of professional peers and demonstrated through reviews, commentaries, or some other form of professional peer affirmation. The SME is graded below PR content for the introduction of some necessary subjectivity.
Literature of importance. Literature of importance includes ancient, medieval, and modern content from any culture that has earned considerable fame due to its received value. This includes, but is not limited to, the 102 ideas in The Syntopicon by Mortimer J. Adler (1902-2001) and The Great Books. Indeed, each field of study has a literature of importance that includes works that may be obscure to the larger encyclopedia of knowledge but is considered essential and authoritative by those in the respective field. A quote from Adler is helpful in recognizing literature of importance: "The reader must be informed that the 102 ideas, along with their topics, were not imposed on the Great Books. They were, rather, sorted out by an intensive reading and rereading of the books by a sizable staff of scholars. There was, in other words, no attempt on the part of the editors to predigest or simplify the information available in this set."

 See Mortimer J. Adler, ed., The Syntopicon: An Index to the Great Ideas, Second Edition, vol. 1, Great Books of the Western World (Chicago; London; New Delhi; Paris; Seoul; Sydney; Taipei; Tokyo: Encyclopedia Britannica, Inc., 1990), xiii.

Popular books and other published media
Personal Experience
II. The six types of references are:
Core references: These are the most important references and provide the foundational information for the research.
Essential references: Essential references are needed to understand the core references and are central to the research.
Significant references: These references provide additional information and support to the core references but are not essential to the research.
Supporting references: These references provide supplementary information to the core references and are used to strengthen the arguments or findings.
Contextual references: These references provide background information or context but are not directly relevant to the research.
Functionary references: Such references are not necessarily used to defend an assertion or an idea but to serve a literary function in presenting ideas. A functionary reference may be a peer-reviewed journal article, i.e., the highest kind of value. Yet, it does not serve to defend research or assertions but to offer further reading or insights on other issues that may be related but not essentially so.
Our Taxonomy of References may be considered a tool to help researchers evaluate the value and relevance of the prospective references for citation. The taxonomy is not an exhaustive list of every kind and type of reference. Rather, this is a primer for citation analysis.
Please cite as:
Chicago 17th edition (full notes):
Milton, Michael A. "Milton's Taxonomy of References: A Primer on Citation Analysis." Figshare, February 14, 2023. https://doi.org/10.6084/m9.figshare.22094819.v1.
APA (Taylor & Francis):
Milton, M. A. (2023). Milton's Taxonomy of References: A Primer on Citation Analysis (Version 1). Figshare. https://doi.org/10.6084/m9.figshare.22094819.v1 (['https://kennedyinstitute.net/Miltons-taxonomy-references'])
MLA 8th:
Milton, M. A. Milton's Taxonomy of References: A Primer on Citation Analysis. 1, Figshare, 14 Feb. 2023, doi:10.6084/m9.Figshare.22094819.v1.