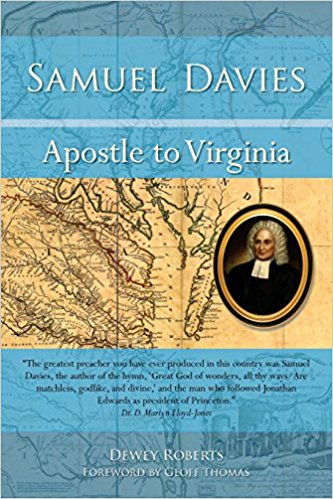 I read Reverend Dewey Roberts' Samuel Davies with an eagerness to learn more about one of the most important but underappreciated fig- ures in American Presbyterian history. The Samuel Davies story is noth- ing short of amazing grace. That a man is able, in the short span of thirty- seven years, and with the relatively limited communication resources of the mid-eighteenth century, to produce so varied a record of service is a testimony to the prodigious subject of this new book, as well as to the gracious intent of the God whom Davies preached.
As Reverend Roberts demonstrates with remarkably fresh and reada- ble prose and well-documented footnotes (that form their own enticing footpath begging to be followed) Davies was not merely an evangelist (in a day when Whitefield roamed the Colonial coast), or an academic, or a college president (following Jonathan Edwards); he was a pastor, a writ- er, a patriot, a hymn-writer, and an administrator. He was quintessen- tially American and in a real way forged those peculiar traits that mark out the strong, optimistic spirit that the world thinks of today as the in- domitable youthful spirit of our people. Yet, Davies was an unabashed Calvinist. He was not rigid as some imagine Calvinists—indeed, he chas- tised those whose theology made them brittle and inhuman—but, was unashamed to confess that the Westminster Confession of Faith was essen- tial for ordination in the Presbyterian Church of his day.
Dewey Roberts should be commended for this generous work in bringing this great American Presbyterian clergyman back to the van- guard of spiritual giants (where Davies belongs). For this Samuel Davies who stirred the spirit of a young Patrick Henry, may well be the one who stirs the spirit of some young person, now, to serve God in a new day. Perhaps—shall we not pray—the Lord who brought revival then might even grace us with even the minutest dewdrop of spiritual renewal in our land. Oh, what a joy that would be for this country that Davies helped to found! For as I read this new book on Samuel Davies, I could not help but pray the words of his hymn for our generation (On Thee, O Lord our God, we call):
"Lord, we repent, we weep, we mourn,
To our forsaken God we turn;
Oh, spare our guilty country, spare
The church thine hand hath planted here!"
Without reservation and with the greatest enthusiasm possible I com- mend Samuel Davies by Rev. Dewey Roberts to the Church with my prayer for personal and corporate revival.
Dr. Michael A. Milton, PhD, MPA
James Ragsdle Chair of Missions and Evangelism, Erskine Theological Seminary; 
President, D. James Kennedy Institute; 
Fourth Chancellor, Reformed Theological Seminary; Chaplain (Colonel), US Army Reserve; Senior Minister-Developer, Trinity Chapel Charlotte Presbyterian Church (ARPC)