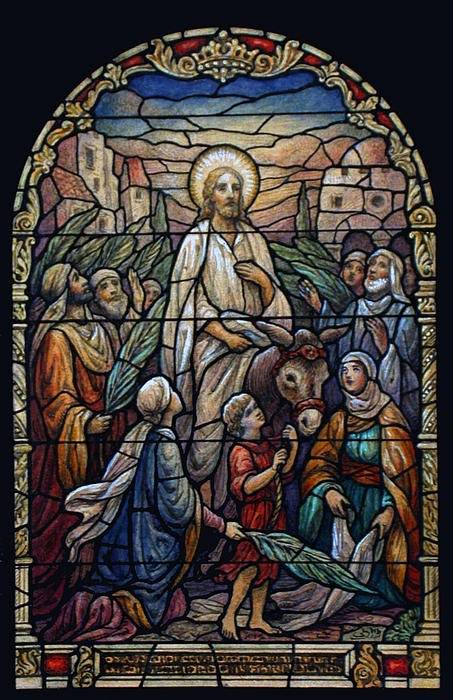 "The next day the large crowd that had come to the feast heard that Jesus was coming to Jerusalem. 13 So they took branches of palm trees and went out to meet him, crying out, "Hosanna! Blessed is he who comes in the name of the Lord, even the King of Israel!" – John 12:12-13.
To follow Jesus into Jerusalem was to live "on the dangerous edge of things," to recall Robert Browning's phrase and James Houston's wonderful essays, Joyful Exiles. Of course most didn't consider life around Jesus too dangerous at the time. It was a great time of celebration. Yet there were sinister forces lurking behind the scenes and even within some of the crowd that would rewrite the story.
Worshiping Jesus on Palm Sunday is living on the dangerous edge of things. For there are forces which oppose His Lordship in our lives and in His creation.
Yet we must; even as Jesus had to ride into Jerusalem. Even as people had to cry out, "Hosanna!" We must have Palm Sunday. It is critical—now more than ever—not to overlook the old, old stories and I will tell you why.
As our society moves farther away from the Gospel and deeper into lawlessness and calling evil good and good evil we will begin to lose our literature. As we do we will lose our way back home. At that point there is no earthly way back. Our stories, myths, films, theater, songs, music, poems, and art are not only mirrors, but signposts, recalling Walker Percy, to constantly help us find our way. At their best they retell Christ stories. They tell Bible stories. Old cultural stories with their old cultural values and sacred narratives are the last things to go in a declining culture. Those stories become the plots, the characters, the scenes and the ethical frameworks that provide familiar guides to us as a community.
William Golding wrote, "We stand before a gap in history, a limit in literature." James Houston went so far as to call it a "black hole" in literature. I cannot disagree with him.
The ascendancy of secularism holds some new possibilities for Christianity, however: the life of Jesus can be presented as the supreme story again. He is so compelling that He will always draw people to Himself. He rides into our broken world today as He did so long ago. Today in the power of His Spirit. One day soon He will return in resurrected flesh. And all who repent and receive Him and follow Him as their living Lord will be saved unto eternal life. Those who do not will be lost. This, too, is our story.
So let the palms wave. Let the children sing. Shout "Hosanna!" But Palm Sunday is more dangerous than we think. Amen.
Works Cited
Houston, J.M.. 2006. Joyful Exiles: Life in Christ on the Dangerous Edge of Things. InterVarsity Press.
Miles, R.. 2013. Victorian Poetry in Context. Bloomsbury Publishing.
Percy, Walker & Samway, P.H.. 1992. Signposts in a Strange Land. Noonday Press.