I am delivering lectures this week for Erskine Seminary to be held at Mitchell Road Presbyterian Church (PCA) in Greenville, South Carolina. The course is designed for campus ministers, but any in the area would be most welcome to audit. I will be lecturing in the morning, after morning prayer, at around 0900 and, then again, at around 1000. We would be honored to have you.
I am publishing the course outline for the convenience of our students.
---
World religions and Apologetics
"For what can be known about God is plain to them, because God has shown it to them. For his invisible attributes, namely, his eternal power and divine nature, have been clearly perceived, ever since the creation of the world, in the things that have been made. So they are without excuse."[1]
__________________
A Course Outline
Erskine Theological Seminary
__________________
January 5-9 2016
Greenville, SC
__________________
by
M.A. Milton, Ph.D. (University of Wales Trinity Saint David)
05 January 2016
Course Outline
The Daily Schedule
An Introduction to the Week of Study

Values

Ideas as Doors to Discovery
Interactive
Student Groups as Learning Systems
Research and Reporting as Essential Learning Methods

Three research groups to be formed
Buzz groups are duets or triads that meet after each lecture to share notes, questions, and then, as a group, pose the questions, or comments, as a class response before the next lecture commences

You will be assigned into a Buzz Group, which may or may not be your Research Group (depends on class size and other variables)

Focus on your ministry in your setting

Daily Schedule

Coffee, Tea, and Fellowship (0830-0900)
Morning Prayer (0900-0910)
First Lecture (0910-0935)
Break (0935-0950)
Buzz Group convenes (0950-1000)
Class Response (1000-1015)
Second Lecture (1015-1040)
Break (1040-1055)
Buzz Group convenes (1055-1105)
Class Response (1105-1120)
Assignments Given (1120-1130)
Lunch (1130-1330)
Research Groups Meet (1330-1400)
Research (1400-1600)
Regroup in Class (1600-1700)

Report back, class leader's comments, closing prayer

We will gather at 1600, but will dismiss as soon as we conclude closing comments and prayer. We will not stay until 5 PM by necessity. 
Monday, January 4, 2016
First Lecture:
"'I wonder why …:' What is Religion?"
"A Religion is a system of beliefs and practices that by means of its cultus directs a person toward transcendence and, thus, provides meaning and coherence to a person's life." (Corduan, Neighboring Faiths, 28)

Theories of religion

Subjective (Schleiermacher, On Religion, 1976)
Idealized (Feuerbach, The Essence of Christianity, 1854).
Psychological need (Freud, The Future of an Illusion, 1928)
The Idea of the Holy (Rudolph Otto, The Idea of the Holy, 1950)
Symbolism (Eliade, "hierophany, "manifestation of the holy" in The Sacred and the Profane, 1959; C. Jung, (Man and his Symbols, 1964)
Aquinas, General Revelation (Summa Contra Gentiles, III, ch. 38)
Sensus Divinitatus, Calvin (Institutesiii.1, pp.43-44)
Break
Remember to consult in your Buzz Groups.
Class Response to the First Lecture
Buzz groups respond for professor response and class discussion.
Second Lecture:
"Neighbors in Faith: What is World Religion?"
What is world religion?

The continuing search of Man for Transcendence through his associations with others within a cultus of religious devotion.
The Major World Religions
Why study world religions?
Assignment:

Group 1: Research and present a religious worldview for Hinduism.
Group 2: Research and present a religious worldview for Islam.
Group 3: Research and present a religious worldview for Buddhism.
Lunch
You may want to have lunch in groups to begin your research. You are welcome to lunch with your professor. Or you may want to have some down time. It is up to you and your group.
Research
It is suggested that you follow this protocol for your research:
Gather at your "base-camp"
Name a moderator and a clerk;
List your assignment, problem, issue;
Figure out how to tackle it;
Make research assignments;
Specify time ("Let's come back at ___");
Conduct the research;
Re-group in order to discuss and find consensus;
Package it for presentation (will you act it out? Lecture? Present it as a newscast? Monologue? PowerPoint? It is up to you)
Report Back
You will have 15 minutes to report back. This is admittedly brief. Re-state your assignment. Make your case in succinct points. Illustrate and cite authorities as you go. Open up for questions. The total length of your group's time in front of the class will likely be more like 30 – 40 minutes with class questions and responses.
Recap
We will reflect on the day and conclude with prayer for those who might come to know Jesus Christ as a result of our classes.
Tuesday, January 5, 2016
Coffee, Tea, Fellowship
Morning Prayer by a Student (use a selection from the daily office from the ESV at http://www.esvbible.org/devotions/bcp/2016-01-05/
First Lecture:
"The Secular West? The Religious Movements in the West (with attention to the "New Atheism")"
Remember to consult in your Buzz Groups.
Class Response to the First Lecture
Buzz groups respond for professor response and class discussion.
Second Lecture:
"Co-Exist? Christianity and Religion"
Assignment:

Group 1: Research and present at least two main points of Richard Dawkins' case against religious faith.
Group 2: Research and present what you might think Alvin Plantinga might respond to Richard Dawkins case against religious faith.
Group 3: Is the West "secular?" Why or why not? What difference does it make to sharing our faith in Jesus Christ? Make your case as a group with at least two authoritative citations. You may present a minority report.
Lunch
Research
Report Back
Recap
Wednesday, January 6, 2016
Coffee, Tea, Fellowship
Morning Prayer by a Student (use a selection from the daily office from the ESV at http://www.esvbible.org/devotions/bcp/2016-01-05/
First Lecture:
"Christian Apologetics: A Pastoral Approach"
Break
Remember to consult in your Buzz Groups.
Class Response to the First Lecture
Buzz groups respond for professor response and class discussion.
Second Lecture:
"Confessing Christ: The Case for Scripture, Jesus, and the Resurrection"
Assignment:

Group 1: Research and report on the objection of suffering in the world. "How can I believe in a God who allows the Holocaust?"
Group 2: Research and report on the objection of Christians being responsible for wars. "Why should I be part of the Church that started the Crusades, killed Native Americans, and subjugated millions through colonialism?"
Group 3: Research and report on the objection of the rights of same-sex marriage and traditional Christianity's objections. "How could I ever become part of such a religion as that?"
Lunch
Research
Report Back
Recap
Thursday, January 7, 2016
Coffee, Tea, Fellowship
Morning Prayer by a Student (use a selection from the daily office from the ESV at http://www.esvbible.org/devotions/bcp/2016-01-05/
First Lecture:
"'In the beginning:' Christian Worldview as Evangelistic Resource on the College Campus"
Remember to consult in your Buzz Groups.
Class Response to the First Lecture
Buzz groups respond for professor response and class discussion.
Second Lecture:
"A Theology of the Basin and the Towel: Christian Love and Apologetics"
Assignment:

Groups may gather to discuss the themes of the day as Buzz Groups and be prepared to return for an abbreviated session, but with some pastoral reflections for all of us as we prepare to depart.
Lunch
Research
Report Back
Recap 
Friday, January 8, 2016
Morning Prayer (for those who remain), led by the professor. Others depart for home.
Appendices
Appendix 1: Tables
Table 1. Evolutionary Model of Religion.
Table 2. Decay of Religions.
Table 3. World Religion Population (2009).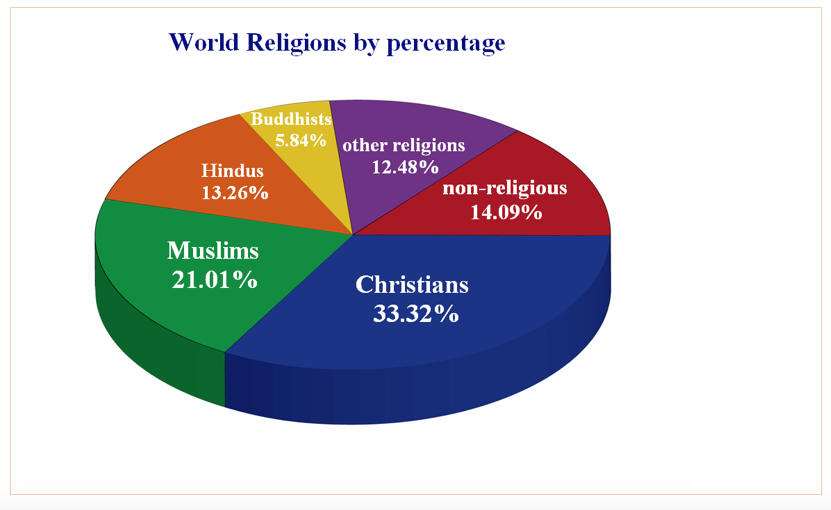 Table 4. U.S. Religion Map (2008).
Table 5. Theories of Religion
Theories of Religion Chart. © Michael A. Milton. All Rights Reserved.
Table 6. Religious Worldviews.
The Articles of a Religious WorldviewMichael A. Milton, Ph.D. © 2016 All rights reserved.
Appendix 2: Buzz Groups
I use the teaching concept called "buzz groups" (described below) to aid in student engagement with the lectures. I find the approach encourages participation by formalizing a forum for the students' latent questions, thereby making one's questions, observations, or critique, less personal, and, thus, more likely to be voiced. My philosophy of teaching is essentially Socratic and I find this format is useful in initiating that necessary but sometimes daunting first-step into the dynamic path of guided self-discovery.
"One barrier to learning in lectures is teachers' belief that learning results from continuous teacher talk. For more reflective or introverted learners, or for those who process new information best by having plenty of time to mull it over and connected to their existing experience and stop of knowledge, periods of reflective silence or crucial. For such learners too much teacher talk mystifies and confuses rather than clarifies. Teachers need to learn the very hard lesson that silence does not represent a vacuum in learning or indicate complete disengagement. It signifies a different but often a significant and intense engagement with the topic of the lecture… There are various ways we can introduce helpful silence into our lectures. After every 20 minutes or so of uninterrupted lecture, we can call for two or three minutes of silent reflective speculation. During this time students are asked to think about the preceding 20 minutes and write down the most important point they felt was made, for the most puzzling assertion that was expressed, or the question they would like to ask. At the end of these few minutes of silent reflection, students can either spend a couple of minutes sharing their ideas in pairs or triads, or they can volunteer to speak these to the whole class, or they can write them down and pass them to the lecturer and have her read out a random selection. The next section of the lecture would then have these responses incorporated into its content.
The pairs or triads mentioned above or often referred to as buzz groups — small group set buzz with purposeful conversation at various times during the lecture. Buzz groups can be used at different points in a lecture. At the outset they can generate questions students hope will be answered in the lecture, perhaps based on assigned pre-reading. At the end they can be used as the vehicle for sharing individual responses …" (Brookfield, Skillful Teacher, 101-102; 2006).
Appendix 3. Canons of Dordt
The Third and Fourth Main Points of Doctrine
Human Corruption, Conversion to God, and the Way It Occurs
Article 1: The Effect of the Fall on Human Nature
Man was originally created in the image of God and was furnished in his mind with a true and salutary knowledge of his Creator and things spiritual, in his will and heart with righteousness, and in all his emotions with purity; indeed, the whole man was holy. Will you in a all However, rebelling against God at the devil's instigation and by his own free will, he deprived himself of these outstanding gifts. Rather, in their place he brought upon himself blindness, terrible darkness, futility, and distortion of judgment in his mind; perversity, defiance, and hardness in his heart and will; and finally impurity in all his emotions.
Article 2: The Spread of Corruption
Man brought forth children of the same nature as himself after the fall. That is to say, being corrupt he brought forth corrupt children. The corruption spread, by God's just judgment, from Adam to all his descendants– except for Christ alone–not by way of imitation (as in former times the Pelagians would have it) but by way of the propagation of his perverted nature.
Article 3: Total Inability
Therefore, all people are conceived in sin and are born children of wrath, unfit for any saving good, inclined to evil, dead in their sins, and slaves to sin; without the grace of the regenerating Holy Spirit they are neither willing nor able to return to God, to reform their distorted nature, or even to dispose themselves to such reform.
Article 4: The Inadequacy of the Light of Nature
There is, to be sure, a certain light of nature remaining in man after the fall, by virtue of which he retains some notions about God, natural things, and the difference between what is moral and immoral, and demonstrates a certain eagerness for virtue and for good outward behavior. But this light of nature is far from enabling man to come to a saving knowledge of God and conversion to him–so far, in fact, that man does not use it rightly even in matters of nature and society. Instead, in various ways he completely distorts this light, whatever its precise character, and suppresses it in unrighteousness. In doing so he renders himself without excuse before God.
Article 5: The Inadequacy of the Law
In this respect, what is true of the light of nature is true also of the Ten Commandments given by God through Moses specifically to the Jews. For man cannot obtain saving grace through the Decalogue, because, although it does expose the magnitude of his sin and increasingly convict him of his guilt, yet it does not offer a remedy or enable him to escape from his misery, and, indeed, weakened as it is by the flesh, leaves the offender under the curse.
Article 6: The Saving Power of the Gospel
What, therefore, neither the light of nature nor the law can do, God accomplishes by the power of the Holy Spirit, through the Word or the ministry of reconciliation. This is the gospel about the Messiah, through which it has pleased God to save believers, in both the Old and the New Testament.
Article 7: God's Freedom in Revealing the Gospel
In the Old Testament, God revealed this secret of his will to a small number; in the New Testament (now without any distinction between peoples) he discloses it to a large number. The reason for this difference must not be ascribed to the greater worth of one nation over another, or to a better use of the light of nature, but to the free good pleasure and undeserved love of God. Therefore, those who receive so much grace, beyond and in spite of all they deserve, ought to acknowledge it with humble and thankful hearts; on the other hand, with the apostle they ought to adore (but certainly not inquisitively search into) the severity and justice of God's judgments on the others, who do not receive this grace.
Article 8: The Serious Call of the Gospel
Nevertheless, all who are called through the gospel are called seriously. For seriously and most genuinely God makes known in his Word what is pleasing to him: that those who are called should come to him. Seriously he also promises rest for their souls and eternal life to all who come to him and believe.
Article 9: Human Responsibility for Rejecting the Gospel
The fact that many who are called through the ministry of the gospel do not come and are not brought to conversion must not be blamed on the gospel, nor on Christ, who is offered through the gospel, nor on God, who calls them through the gospel and even bestows various gifts on them, but on the people themselves who are called. Some in self-assurance do not even entertain the Word of life; others do entertain it but do not take it to heart, and for that reason, after the fleeting joy of a temporary faith, they relapse; others choke the seed of the Word with the thorns of life's cares and with the pleasures of the world and bring forth no fruits. This our Savior teaches in the parable of the sower (Matt. 13).
Article 10: Conversion as the Work of God
The fact that others who are called through the ministry of the gospel do come and are brought to conversion must not be credited to man, as though one distinguishes himself by free choice from others who are furnished with equal or sufficient grace for faith and conversion (as the proud heresy of Pelagius maintains). No, it must be credited to God: just as from eternity he chose his own in Christ, so within time he effectively calls them, grants them faith and repentance, and, having rescued them from the dominion of darkness, brings them into the kingdom of his Son, in order that they may declare the wonderful deeds of him who called them out of darkness into this marvelous light, and may boast not in themselves, but in the Lord, as apostolic words frequently testify in Scripture.
Article 11: The Holy Spirit's Work in Conversion
Moreover, when God carries out this good pleasure in his chosen ones, or works true conversion in them, he not only sees to it that the gospel is proclaimed to them outwardly, and enlightens their minds powerfully by the Holy Spirit so that they may rightly understand and discern the things of the Spirit of God, but, by the effective operation of the same regenerating Spirit, he also penetrates into the inmost being of man, opens the closed heart, softens the hard heart, and circumcises the heart that is uncircumcised. He infuses new qualities into the will, making the dead will alive, the evil one good, the unwilling one willing, and the stubborn one compliant; he activates and strengthens the will so that, like a good tree, it may be enabled to produce the fruits of good deeds.
Article 12: Regeneration a Supernatural Work
And this is the regeneration, the new creation, the raising from the dead, and the making alive so clearly proclaimed in the Scriptures, which God works in us without our help. But this certainly does not happen only by outward teaching, by moral persuasion, or by such a way of working that, after God has done his work, it remains in man's power whether or not to be reborn or converted. Rather, it is an entirely supernatural work, one that is at the same time most powerful and most pleasing, a marvelous, hidden, and inexpressible work, which is not lesser than or inferior in power to that of creation or of raising the dead, as Scripture (inspired by the author of this work) teaches. As a result, all those in whose hearts God works in this marvelous way are certainly, unfailingly, and effectively reborn and do actually believe. And then the will, now renewed, is not only activated and motivated by God but in being activated by God is also itself active. For this reason, man himself, by that grace which he has received, is also rightly said to believe and to repent.
Article 13: The Incomprehensible Way of Regeneration
In this life believers cannot fully understand the way this work occurs; meanwhile, they rest content with knowing and experiencing that by this grace of God they do believe with the heart and love their Savior.
Article 14: The Way God Gives Faith
In this way, therefore, faith is a gift of God, not in the sense that it is offered by God for man to choose, but that it is in actual fact bestowed on man, breathed and infused into him. Nor is it a gift in the sense that God bestows only the potential to believe, but then awaits assent–the act of believing–from man's choice; rather, it is a gift in the sense that he who works both willing and acting and, indeed, works all things in all people produces in man both the will to believe and the belief itself.
Article 15: Responses to God's Grace
God does not owe this grace to anyone. For what could God owe to one who has nothing to give that can be paid back? Indeed, what could God owe to one who has nothing of his own to give but sin and falsehood? Therefore the person who receives this grace owes and gives eternal thanks to God alone; the person who does not receive it either does not care at all about these spiritual things and is satisfied with himself in his condition, or else in self-assurance foolishly boasts about having something which he lacks. Furthermore, following the example of the apostles, we are to think and to speak in the most favorable way about those who outwardly profess their faith and better their lives, for the inner chambers of the heart are unknown to us. But for others who have not yet been called, we are to pray to the God who calls things that do not exist as though they did. In no way, however, are we to pride ourselves as better than they, as though we had distinguished ourselves from them.
Article 16: Regeneration's Effect
However, just as by the fall man did not cease to be man, endowed with intellect and will, and just as sin, which has spread through the whole human race, did not abolish the nature of the human race but distorted and spiritually killed it, so also this divine grace of regeneration does not act in people as if they were blocks and stones; nor does it abolish the will and its properties or coerce a reluctant will by force, but spiritually revives, heals, reforms, and–in a manner at once pleasing and powerful–bends it back. As a result, a ready and sincere obedience of the Spirit now begins to prevail where before the rebellion and resistance of the flesh were completely dominant. It is in this that the true and spiritual restoration and freedom of our will consists. Thus, if the marvelous Maker of every good thing were not dealing with us, man would have no hope of getting up from his fall by his free choice, by which he plunged himself into ruin when still standing upright.
Article 17: God's Use of Means in Regeneration
Just as the almighty work of God by which he brings forth and sustains our natural life does not rule out but requires the use of means, by which God, according to his infinite wisdom and goodness, has wished to exercise his power, so also the aforementioned supernatural work of God by which he regenerates us in no way rules out or cancels the use of the gospel, which God in his great wisdom has appointed to be the seed of regeneration and the food of the soul. For this reason, the apostles and the teachers who followed them taught the people in a godly manner about this grace of God, to give him the glory and to humble all pride, and yet did not neglect meanwhile to keep the people, by means of the holy admonitions of the gospel, under the administration of the Word, the sacraments, and discipline. So even today it is out of the question that the teachers or those taught in the church should presume to test God by separating what he in his good pleasure has wished to be closely joined together. For grace is bestowed through admonitions, and the more readily we perform our duty, the more lustrous the benefit of God working in us usually is and the better his work advances. To him alone, both for the means and for their saving fruit and effectiveness, all glory is owed forever. Amen.
Appendix 4. Quotations
John Calvin
That there exists in the human minds and indeed by natural instinct, some sense of Deity, we hold to be beyond dispute, since God himself, to prevent any man from pretending ignorance, has endued all men with some idea of his Godhead, the memory of which he constantly renews and occasionally enlarges, that all to a man being aware that there is a God, and that he is their Maker, may be condemned by their own conscience when they neither worship him nor consecrate their lives to his service. (Inst. 1.3.1)
All men of sound judgment will therefore hold, that a sense of Deity is indelibly engraven on the human heart. And that this belief is naturally engendered in all, and thoroughly fixed as it were in our very bones, is strikingly attested by the contumacy of the wicked, who, though they struggle furiously, are unable to extricate themselves from the fear of God. (1.3.3)
Bibliography
Bellah, Robert N. Religion in Human Evolution: From the Paleolithic to the Axial Age. Cambridge, MA: Belknap Press of Harvard University Press, 2011.
Blamires, Harry. The Christian Mind: How Should a Christian Think? Ann Arbor, MI: Servant Books, 1963.
Boa, Kenneth. Faith Has Its Reasons: Integrative Approaches to Defending the Christian Faith. Waynesboro, GA: Paternoster, 2006.
Bray, Gerald Lewis. Documents of the English Reformation. Minneapolis: Fortress Press, 1994.
Brookfield, Stephen. The Skillful Teacher: On Technique, Trust, and Responsiveness in the Classroom. San Francisco, CA: Jossey-Bass, 2006.
Campbell-Jack, Walter Campbell., Gavin McGrath, and C. Stephen. Evans. New Dictionary of Christian Apologetics. Leicester, England: Inter-Varsity Press, 2006.
Coogan, Michael David. The Illustrated Guide to World Religions. New York: Oxford University Press, 1998.
Copan, Paul. That's Just Your Interpretation: Responding to Skeptics Who Challenge Your Faith. Grand Rapids, MI: Baker Books, 2001.
Copan, Paul. When God Goes to Starbucks: A Guide to Everyday Apologetics. Grand Rapids, MI: Baker Books, 2008.
Corduan, Winfried. Neighboring Faiths: A Christian Introduction to World Religions. Downers Grove, IL: InterVarsity Press, 1998.
Corduan, Winfried. Neighboring Faiths: A Christian Introduction to World Religions. Downers Grove, IL: InterVarsity Press, 1998.
Corduan, Winfried. No Doubt about It: The Case for Christianity. Nashville, TN: Broadman & Holman, 1997.
Craig, William Lane., and William Lane. Craig. Reasonable Faith: Christian Truth and Apologetics. Wheaton, IL: Crossway Books, 1994.
Dembski, William A., and Mike Licona. Evidence for God: 50 Arguments for Faith from the Bible, History, Philosophy, and Science. Grand Rapids, MI: Baker Books, 2010.
Dembski, William A. Intelligent Design: The Bridge between Science & Theology. Downers Grove, IL: InterVarsity Press, 1999.
Foucault, Michel. The Order of Things: An Archaeology of the Human Sciences. London: Routledge, 2002.
Frame, John M. Apologetics to the Glory of God: An Introduction. Phillipsburg, NJ: P & R Pub., 1994.
Geisler, Norman L., Francis Beckwith, William Lane. Craig, and James Porter Moreland. To Everyone an Answer: A Case for the Christian Worldview: Essays in Honor of Norman L. Geisler. Downers Grove, IL: InterVarsity Press, 2004.
Grenz, Stanley J. A Primer on Postmodernism. Grand Rapids, MI: William B. Eerdmans Pub., 1996.
Hoeksema, Herman. Reformed Dogmatics. Grand Rapids: Reformed Free Pub. Association, 1966.
Johnson, Phillip E. Reason in the Balance: The Case against Naturalism in Science, Law & Education. Downers Grove, IL: InterVarsity Press, 1995.
Keller, Timothy. The Reason for God: Belief in an Age of Skepticism. New York: Dutton, 2008.
Kreeft, Peter. Between Heaven & Hell: A Dialog Somewhere beyond Death with John F. Kennedy, C.S. Lewis & Aldous Huxley. Downers Grove, IL: InterVarsity Press, 1982.
Lewis, C. S., and Kathleen Norris. A Revised and Amplified Edition: With a New Introduction, of the Three Books. London: Collins, 2012.
Lewis, C. S. Mere Christianity. New York: MacMillan Pub., 1952.
Masselink, William. General Revelation and Common Grace; a Defense of the Historic Reformed Faith over against the Theology and Philosophy of the So-called "Reconstructionist" Movement. Grand Rapids: W.B. Eerdmans Pub., 1953.
McNeill, John T., and Ford Lewis. Battles. Calvin: Institutes of the Christian Religion. Philadelphia, PA: Westminster Press, 1960.
Milton, Michael A. Cooperation without Compromise: Faithful Gospel Witness in a Pluralistic Setting. Eugene, OR: Wipf and Stock Publishers, 2006.
Moreland, James Porter. Scaling the Secular City: A Defense of Christianity. Grand Rapids, MI: Baker Book House, 1987.
Moroney, Stephen K. The Noetic Effects of Sin: A Historical and Contemporary Exploration of How Sin Affects Our Thinking. Lanham, MD: Lexington Books, 2000.
Netland, Harold A. Christianity & Religious Diversity: Clarifying Christian Commitments in a Globalizing Age.
Newbigin, Leslie. Foolishness to the Greeks: The Gospel and Western Culture. London: SPCK, 1986.
Oppy, Graham, and Nick Trakakis. The History of Western Philosophy of Religion. New York: Oxford University Press, 2009.
Plantinga, Alvin. Knowledge and Christian Belief. Grand Rapids: Eerdmans, 2015.
Plantinga, Alvin. Warrant and Proper Function. New York: Oxford University Press, 1993.
Reymond, Robert L. The Justification of Knowledge: An Introductory Study in Christian Apologetic Methodology. Nutley, NJ: Presbyterian and Reformed Pub., 1976.
Reymond, Robert L. A New Systematic Theology of the Christian Faith. Nashville: T. Nelson, 1998.
Schaeffer, Francis A., and James Montgomery Boice. The Foundation of Biblical Authority. Grand Rapids: Zondervan, 1978.
Schaeffer, Francis A., and James Montgomery Boice. The Foundation of Biblical Authority. Grand Rapids: Zondervan, 1978.
Sire, James W. Apologetics beyond Reason: Why Seeing Really Is Believing.
Sire, James W. The Universe next Door: A Basic Worldview Catalog. Downers Grove, IL: InterVarsity Press, 2009.
Sudduth, Michael. The Reformed Objection to Natural Theology. Farnham, England: Ashgate, 2009.
Tennent, Timothy C. Christianity at the Religious Roundtable: Evangelicalism in Conversation with Hinduism, Buddhism, and Islam. Grand Rapids, MI: Baker Academic, 2002.
Tennent, Timothy C. Theology in the Context of World Christianity: How the Global Church Is Influencing the Way We Think about and Discuss Theology. Grand Rapids, MI: Zondervan, 2007.
Verkamp, Bernard J. "Concerning the Evolution of Religion." The Journal of Religion 71, no. 4 (October 01, 1991): 538-57. Accessed December 30, 2015. http://www.jstor.org/stable/10.2307/1203957?ref=search-gateway:09989b61d82764a996bd6bc57beb6b74.
Williamson, G. I. The Westminster Confession of Faith, for Study Classes. Philadelphia: Presbyterian and Reformed Pub., 1964.
Wolterstorff, Nicholas. Divine Discourse: Philosophical Reflections on the Claim That God Speaks. Cambridge: Cambridge University Press, 1995.
Wright, N. T. The Resurrection of the Son of God.
Zaleski, Philip, and Carol Zaleski. The Fellowship: The Literary Lives of the Inklings: J.R.R. Tolkien, C. S. Lewis, Owen Barfield, Charles Williams.
[1] The Holy Bible: English Standard Version (Wheaton: Standard Bible Society, 2001), Ro 1:19–20.