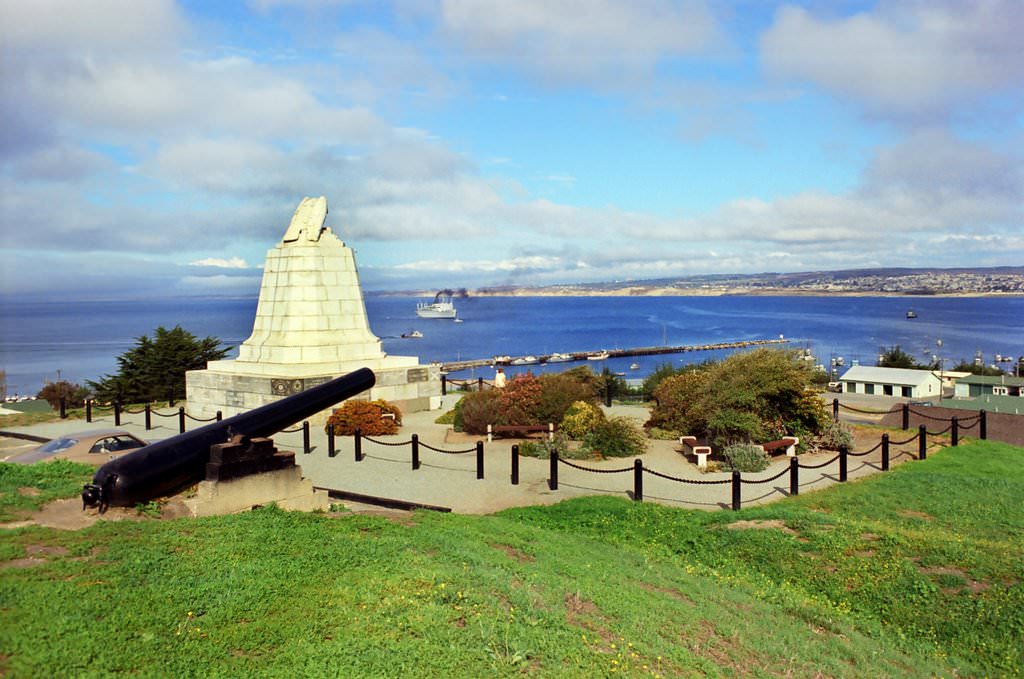 They were the Cold War years of the mid 1970s. The California folk sounds of Neil Young and Dan Fogelberg wafted through the nightspots in Monterey. Progressive rock sounds from bands like Kansas were heard blaring from certain rooms in the Navy barracks. Some were still listening to Buffalo Springfield. Some were listening to daily radio commentaries from a very popular conservative-former governor named Ronald Reagan. The anachronisms reflected the unspoken questions of that hazy time: were we in the late '60s and early '70s or were we in a new day?
To those of us in our formidable years it seemed that we were caught and hanging in time between two eras. The Vietnam War years were giving way, haltingly, to a new kind of tension on the world stage. Korea and China seemed destined to explode into war. Many in the language departments were nervous with that possibility. The East European language departments and the Russian departments continued to study with a sense of urgency as if at any moment the Balkans or the Berlin Wall would collapse into conflict and Soviet tanks would face off with American and British armies. We all lived "as if" in those days, because a Cold War constantly baited our worst fears with our worst nightmares.
Into that history, a young Navy Cryptological Technician (Interpretive) began a journey in a place that would change his life. I was that lad. That place was of course, our place, our Defense Foreign Language Institute (known, then, simply as DLI). I studied Albanian under Professors Zef Logoreci and Zef Nekai, two of the finest men I have ever known. While I had passed the entrance examination for this great institution, I had skidded effortlessly through high school with good grades and little studying. But not even the ablest "skidding student" could pull that same stunt off at the prestigious Defense Language Institute. And so, predictably, I found myself scrambling to keep up with the intense, regimental demands of DLI in my early days there. The ubiquitous, mysterious blue-grey fog of Monterey seemed to have settled over my study desk at the Navy detachment barracks. Thus, with few study skills in place, I began to flounder in class. It could have all ended for me as it did with others in my class and in other classes. There were hauntingly real stories of young men studying Bulgarian one week and painting ships at Subic Bay the next week. No one was ever given a grade, or especially a coveted diploma from that institution. It had to be earned.
In spite of my struggles, my professors saw something in me that I didn't see in myself. Both men took time to help me learn how to study. And they gave me something even more valuable: they gave me a love of learning. I began to devour their lectures like one would devour the hot sourdough bread made on Cannery Row. Many times I found myself walking down the Presidio to get that bread with my Albanian paradigms in one hand and sourdough bread in the other. It was worth the heart-pounding walk back up that, seemingly, 90 degree hill to the barracks at DLI, hands sticky with sweet butter from the hot sourdough bread.
[pullquote]DLI gave me something even more valuable: they gave me a love of learning.[/pullquote]
But whether we were learning how to conjugate Albanian verbs in the northern dialect or decline nouns in the southern dialect, or studying the tumultuous history of the region, or the intriguing culture of the people, I began to grasp the glory of intellectual exploration. Indeed, as I graduated, and was leaving DLI, I asked Professor Nekai what I should do next. "What can I do with Albanian outside of the military?" He looked somewhere far away in his mind's eye, maybe to the beautiful Adriatic seashore of his Albanian home. He was still peering wherever his mind had taken him when he told me words that I shall never forget: "Many people see the sand on the seashore. But you have seen one grain. Cherish that one grain. Tell others about it. Love the people you have studied. DLI has been a gift to you, Mr. Milton."
Few words have ever proved to be truer.
Years later as a young Presbyterian minister, I was one of the first Americans to enter Albania as "the wall" fell and a fledgling democracy began to emerge. I stood on top of the tumbled statue of Joseph Stalin (or some other symbol of oppression, but that is what my Alabanian guide told me it was), recently pushed over by freedom-seeking students in revolt against despotism and Communism. I stood on the crumbled head of Stalin that had been dislocated from the broken body of that statue, that symbol of a horrible history now also crumbling. I stood on Stalin's head and I preached. I preached a Gospel of a future and a hope. Over 500 people gathered in Skanderbeg Square of the capital of Albania that night. As I preached, I spoke in the Albanian language. And the legacy of DLI was with me.
[pullquote]Over 500 people gathered in Skanderbeg Square of the capital of Albania that night. As I preached, I spoke in the Albanian language. And the legacy of DLI was with me.[/pullquote]
My debt to the Defense Language Institute is far greater than being taught a language and the accompanying remarkable experiences. My deeper debt is that I was given an appreciation for the intellectual life that led me through undergraduate education in Kansas, to a Masters of Divinity degree, and finally to a Doctor of Philosophy from the University of Wales Trinity Saint David's. But a love of learning cannot be confined to formal degrees. And the pursuit continues in many ways as I became the president and, later, chancellor, of a graduate school of theology where I got to write, teach, and speak all over the nation and the world. I write this, now, as a faculty member and senior editor of an Army journal and as a chaplain on active duty still serving our nation in a role where I can give back something of what was given to me.
But the first diploma on my wall is the one I cherish the most. It is the diploma from DLI. For behind that piece of paper lies a story, a story of how an institution changed my life. It is a gift. I will always be thankful for that gift, for that place, for that faculty, and for the God-given opportunity to be just a small part of the remarkable story of the Defense Foreign Language Institute.