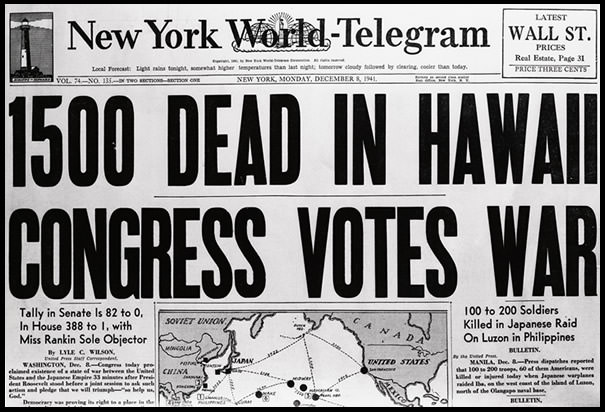 Today as America remembers the attack of the sudden and unproved attack of the Japanese Imperial Naval Air forces upon the Pear Harbor U.S. military installations, some families preserve more personal memories of that day.
Or the day before.
There was a telegram kept by my Aunt Eva in a little black, cardboard memory box in her cedar chest. We would open it on Pearl Harbor day, as I was growing up, and read it together. My aunt would speak in hushed tones about her brother, and my father who is mentioned in the telegram. My uncle was killed in WWII, not at Pearl Harbor, but later in the war. Yet his telegram was uncanny as we recognized where he was and what the date was on the telegram. He had written a censored letter to his parents from aboard a US Navy ship in the South Pacific on December 6 1941.
Aunt Eva is in heaven now, with her brothers. That old cedar chest is at the foot of our bed today. It is filled with quilts and fading photographs of family members and neighbors I never knew. Yet I can't find the telegram. But what was read to me each year, from a yellowing Navy document which made its way to my grandparents, is lodged in my mind. I share it here to honor those who gave so much, who conducted their missions with no idea that December 6 1941 would forever be a day in our family history which linked our lives—with so many other American families—with what happened the next day.
Thus, as I remember:
"V-LETTER
United States Navy
Somewhere in the South Pacific
To Mrs. And Mrs. George Michael Milton
Corbin, Louisiana
This telegram has been cleared by the ship censor.
From Chief Petty Officer Woodrow Milton
Dear Mama and Papa,
Somewhere in S. Pacific. Doing fine. Heard from Ellis [his brother, my father, a U.S. Merchant Marine officer active in the "Lend/Lease Act" to supply arms to Great Britain before we entered the war]. When I talked to him he was in Greenland. He wants you to know he is well. Give my love to [he names his young wife and their young children]. Don't worry. Love. Your Son. W. Milton"
The next day Pearl Harbor was attacked. America entered war. My father became commander of an Army transport ship. My uncle was killed in 1944. My father made it through the war. And I was born in the aftermath of those years when young men bore the weight of battle, and families endured the pain of loss.
And so I will kneel before the old cedar chest, an altar of sorts to the God of our lives, and I will remember Pearl Harbor. With still, hushed tones of words uttered in prayer I will also remember a telegram from December 6 1941 as we call the day that will live in infamy on the next day.